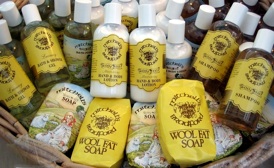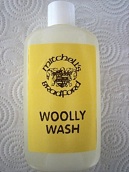 This skin care range was started in Bradford by chemist Fred Mitchell in the 1930s and is still made by a family chemist there today who has connections to Fred Mitchell. Apparently, a handwritten recipe for the soap, dated the 1890s, was found among the shop deeds. Today's small range of items is suitable for all the family, especially for those with dry, cracked or sensitive skins. The products are available in a range of sizes, making them suitable for general family use or as a quality personal gift.

Many of my regular customers advise me that these items have not only helped with dry, cracking skins but also with certain skin conditions. They are very good value too, as you don't need much to do the job. See the Order Lanolin Goods page for details and prices.

Lanolin - Nature's Natural Moisturiser

Fact: Lanolin is cruelty-free and NOT tested on animals. It is a natural, renewable raw material derived from the shorn wool. It is a cruelty-free by-product of wool washing which, if not utilised, would increase the environmental problems associated with its disposal.

Fact: Lanolin is designed in nature to perform a similar function to our own skin's natural oils, which is what makes it such an efficient moisturiser. Dry, rough and even cracked skin can benefit from lanolin's powerful but gentle emollient action which slows down the rate at which moisture is lost from the skin.

Fact: Simple in principle, but impossible to reproduce synthetically, lanolin has led the way in skin care for centuries. Dermatologists, chemists and skincare experts alike agree that lanolin is one of the very safest, most effective and versatile products with which to care for our skin.

These facts are from a leaflet by The Westbrook Lanolin Company. They are a world leader in lanolin study and have been manufacturing ultra-pure lanolins since he 1920's.